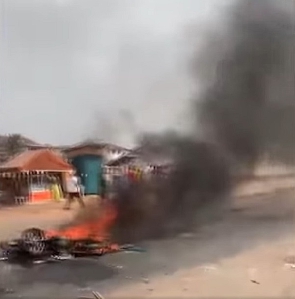 Several people have reportedly been injured in a chieftaincy clash at James Town, Ngleshie Alata, a suburb of Accra, on Sunday, January 15, 2023.
According to a news report by Ablade TV, the clash was between two factions claiming ownership of the James Town Ngleshie Alata Stool following the demise of the late Paramount Chief of Ngleshie Alata, Nii Kojo Ababio V.

The report indicated that the two factions were supporters of two key claimants of the James Town Stool, Nii Ahuma Kojo III and Oblempong Wetse Kojo II.

A spokesperson for Nii Ahuma Kojo III, Nii Kojo Achamfo, who spoke to Ablade TV in an interview monitored by GhanaWeb, said that they were attacked by supporters of Nii Ahuma Kojo III on their way from a ritual they went to perform.

"Oblempong Wetse Kojo II is the rightful king of Ngleshie Alata. So, it has been planned that he will be taken to the palace long ago. And so today, the kingmakers decided to perform the necessary rituals after informing the Ghana Police Service.

"After the ritual, we were all of a sudden attacked by some youth who were wielding broken bottles, cutlasses, and guns," he said in the Ga dialect.
He added that the supporters of Nii Ahuma Kojo III are aware that Oblempong Wetse Kojo II is the true king but have decided to create unnecessary commotion.

The spokesperson for Nii Ahuma Kojo III, Nii Aryeetey Kponkpo V, who said he is the chief priest of Ngleshie Alata, also told Ablade TV that Nii Ahuma Kojo III is the rightful king and he has already been installed.

He added that supporters of Oblempong Wetse Kojo II were the ones who attacked them, trying to eject them from the Ngleshie Alata palace, which they were already occupying.

The report by Ablade TV showed personnel from the Ghana Police Service on the scene of the clash.

Burnt cars and other destroyed properties could also be seen at the scene of the clash. The police have yet to comment on the incident.
Watch the report by Ablade TV plus the scene of the clash in the video below:





IB/SEA