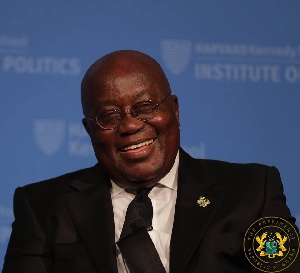 Thu, 11 Apr 2019 Source: Daniel Kaku
President Nana Addo Dankwa Akufo-Addo has handed over eight new vehicles to the Western-North Region.
Addressing chiefs at Wiaso, the president introduced some local government staff who will run the affairs of the new region, adding that, the eight new all purpose vehicles is to assist in the administrative works of the new Region.

He also inspected the proposed site for the construction of the Regional Coordinating Council at Wiawso and cut sod for the construction of the main campus of the Bibiani College of Health Sciences which will admit a total of six hundred students after completion in February 2020.

These projects are in fulfillment to the President's commitment in ensuring the new Regions are developed.

Speaking on behalf of the chiefs and people in the Sefwi Wiawso Traditional Area, Katakyie Bumankuma II sang songs of praises to the President for successfully implementing the proposals for the creation of the Region, describing it as historic.

He urged his subjects to reduce immediate pressure on government for development.

He, however, appealed to the President to ensure some roads in the new Regions are fixed as soon as possible to boost the local economy.
"Our ancestors for forty four years fought for this day but they were unable to achieve success. We appealed to the President during his campaign tour for the creation of the Western North Region and truly after winning power, he has given us a new Region, we really thank you Mr President and we will forever remember you for this, he acknowledged.

"Though we are in need of numerous projects to enable the new region achieve its feet, I'm urging my subjects to reduce pressure on government for development. We are happy you came Mr President, what we need now are roads, Bechimaa to Osei Kojo road, Enchi to Dadieso road, Akontombra Wiaso road. We trust you will help us fix these roads, he indicated.

The President, Nana Addo Dankwa Akufo-Addo indicated that, he was struck by the overwhelming endorsement of key people of the need to create the new Region.

According to him, it is the trust of government that, the needed development will be achieved in the new Western-North Region.

"My promise of creating the new western north region was not a mere campaign gimmick. Today shows how serious I was when I made those promises, I still believe the move will boost development", indicated.

He assured key dilapidated roads in the new Region will be fixed soon.
Source: Daniel Kaku