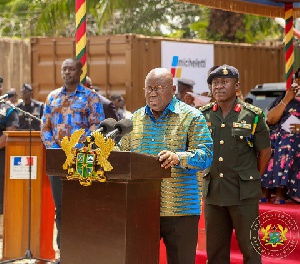 The criticisms of the governing New Patriotic Party (NPP) by the main opposition National Democratic Congress (NDC) are premature and not of any worth, Abdul-Malik Kweku Baako, editor-in-chief of the New Crusading Guide, has said.
For him, the NDC are just "firing blank bullets" as he explained that the NPP has chalked some successes so discrediting all that have been outlined as achievements within the first 100 days in government was unfair, without fact and dishonest.

Vice President Dr Mahamudu Bawumia has said that the first 100 days of the Nana Akufo-Addo-led government has seen remarkable success, saying the period registered "one day, one achievement".

According to Dr Bawumia, government has recorded at least 103 achievements within its first 100 days in office.

He revealed this during a presentation at a town hall meeting to mark the 100 days of Mr Akufo-Addo's government on Monday, April 17.

Among the achievements, Dr Bawumia emphasised that through prudent economic management, the Ghanaian cedi had been stabilised with appreciable strength gain in the past weeks in relation to the US dollar and other international currencies.
Subsequently, the NDC organised a press conference indicating that the first 100 days of the NPP had been full of broken promises and incompetence in the administration of the country.

Member of Parliament for Ketu North, James Klutse Avedzi, on Tuesday April 18, explained that the 110 ministers appointed by the President had worsened Ghana's economy due to the huge cost of managing such number of government appointees, adding that the president has been wasteful with no significant achievements to mark his three months in power.

However, speaking on Peace FM's morning show, Kokrokoo, on Wednesday, April 19, Mr Baako said the move by the NDC is mere propaganda as the party was still suffering from the "pain of the electoral annihilation", which is "understandable".

"If someone says they have achieved something, we look at the time frame and the essence of the policy the person is talking about," Mr Baako explained.

"You don't expect that what you are pushing out there will happen within 100 days. You don't, what you will see is a certain level of intent and if they are doing anything to bring these things into being or not, and I am saying yes, they are."