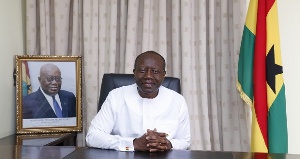 Finance Minister Ken Ofori-Atta needs prayers as he prepares to deliver the Akufo-Addo government's budget for the fiscal year, financial analyst Joseph Jackson has said.
According to him, the expectations Ghanaians have of the Akufo-Addo-led government are very high, a situation that will pile pressure on the Finance Minister to find money to fulfill all the promises that were made by the NPP ahead of last year's elections.

Mr Ofori-Atta will be delivering the budget on Thursday, 2 March. He is expected to outline measures and sources of funding for the implementation of programmes such as Free SHS, establishment of 216 factories in every district of the country, the construction of an irrigation dam in every farming village in the three regions up north and the disbursement of $275million to all the constituencies in the country for industrialisation purposes.
Speaking in an interview with Emefa Apawu on Class91.3FM's 505 programme on Wednesday, 1 March, Mr Jackson said: "The bar is very high and unfortunately Ghanaians have very high expectations from this government. We have very high expectations and the bar is very high so truly you have got to say a prayer for honourable Ken Ofori-Atta."