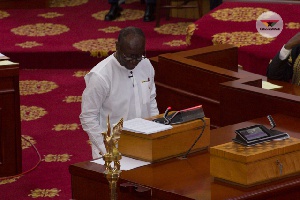 Finance Minister, Ken Ofori-Atta, has pledged to clampdown on "inefficiencies and waste" in government spending, saying it will not be tolerated.
Presenting the government's maiden budget statement Thursday March 2, 2017, he said the government will work to reduce the amount of government borrowing and the resulting crowding of the private sector.

The government, he said, will shift the focus of the country's economic management from taxation to production.

"Ghana is ready because the people are ready. In NPP, Ghanaians have a government that is ready to work," he stated, adding "We must trigger a national sense of urgency to fix our deficits [and] that we can't borrow our way out of our challenges."

Re-echoing president Akufo-Addo's claims that the Ghanaian economy is in tatters, Mr. Ofori-Atta said that; "let's acknowledge that we inherited a struggling economy in which we are all responsible."

The country's debt stock, he said reached an average of 73% of Gross Domestic Product (GDP) as at the end of 2016. The rate of economic growth slowed in recent years he indicated with the growth rate in 2016 being as low as 6.3%.
As a result, he said: "The economic challenges we face requires deliberate steps and the backing of Ghanaians. Our goal is to build the most business-friendly economy in Africa."

He promised to strike a balance between fiscal consolidation and growth. Revenue administration, he noted remains a challenge promising that the Akufo-Addo government will strengthen tax administration and broaden the tax base.

Mr. Ofori-Atta said government will work towards diversifying the economy disclosing that: "Our medium-term policies will ensure better microeconomic outcomes".

He said ensuring food security, quality education and effective social protection is part of government medium term objective.