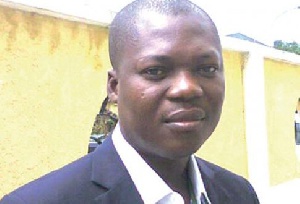 The government of Nana Addo Dankwa Akufo-Addo must ensure that tax laws are enforced strictly in Ghana to raise more revenue to implement its programmes and policies, Dr John Gatsi, an economist and senior lecturer at the University of Cape Coast, has said.
According to him, although the programmes and measures outlined by the government are good, those programmes in themselves will not generate the needed revenue unless there is a strict adherence to the country's tax laws.

Commenting on the budget statement presented to parliament by Finance Minister Ken Ofori-Atta on TV3's New Day programme on Saturday 4 March, Dr Gatsi said: "This budget has created the road map for the future. We will need to look at issues relating to revenue generation very well.

"The National Identification programme is good but in itself will not generate revenue; it is the enforcement of our laws that is going to generate more revenue."

During the reading of the budget statement on Thursday 2 March, Mr Ofori-Atta mentioned, among other things, the scrapping of excise duty on petroleum products. The government also intends to reduce the special petroleum tax rate on petrol from 17.5% to 15%.

Other taxes that will be completely abolished include the following:
1. The 1% special import levy

2. The 17.5% VAT on financial services

3. The 17.5% VAT on selected imported medicines not produced locally

4. The 17.5% VAT on domestic airline tickets

5. The 5% VAT on real estate sales
6. Duty on importation of spare parts

Also, the 17.5% VAT imposed on traders has been replaced with a 3% flat rate, while businesses that employ young graduates from tertiary institutions will get tax credits and other incentives. Furthermore, there will be tax incentives for young entrepreneurs while the Corporate Income Tax will be progressively reduced from 25% to 20% in 2018.

Additionally, Mr Ofori-Atta said the Akufo-Addo government would initiate steps to remove import duties on raw materials and machinery for production.