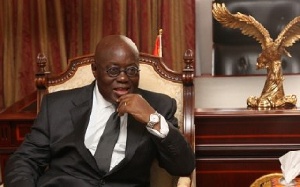 The abolition of the Value Added Tax (VAT) on real estate sales by the Akufo-Addo government is good a decision that will increase the purchasing power of Ghanaians, Samuel Amegayibor, Executive Secretary of the Ghana Real Estate Developers Association (GREDA), has said.
He revealed that the previous government under John Mahama failed to heed the association's call for the tax to be abolished, only deciding to reduce it, a measure that did not fully address concerns.

During the reading of the budget statement on Thursday, 2 March, Mr Ken Ofori-Atta, Minister of Finance, mentioned, among other things, the scrapping of excise duty on petroleum products. The government also intends to reduce the special petroleum tax rate on petrol from 17.5% to 15%.

Other taxes that will be completely abolished include the following:

1. The 1% special import levy

2. The 17.5% VAT on financial services
3. The 17.5% VAT on selected imported medicines not produced locally

4. The 17.5% VAT on domestic airline tickets

5. The 5% VAT on real estate sales

6. Duty on importation of spare parts

Also, the 17.5% VAT imposed on traders has been replaced with a 3% flat rate, while businesses that employ young graduates from tertiary institutions will get tax credits and other incentives. Furthermore, there will be tax incentives for young entrepreneurs while the Corporate Income Tax will be progressively reduced from 25% to 20% in 2018.
Additionally, Mr Ofori-Atta said the Akufo-Addo government would initiate steps to remove import duties on raw materials and machinery for production.

Speaking in an interview on Asempa FM's Ekosii Sen programme on Friday 3 March, Mr Amegayibor said: "We were very excited after the budget was read by the Finance Minister. We got what we expected from the government through the removal of the tax.

"The VAT brought a lot of hardship on Ghanaians, especially in the housing sector. If people were unable to procure houses because of the high tax or the VAT, it meant we were gradually being thrown out of business and so we were extremely excited by the removal of the VAT. We made our concerns known to the previous government, but they only told us they would reduce it to five per cent flat rate, but by the grace of God Nana Akufo-Addo has come to abolish it completely, and so we thank him so much. The abolition of the VAT, to a large extent, will give Ghanaians the purchasing power to buy their own houses."