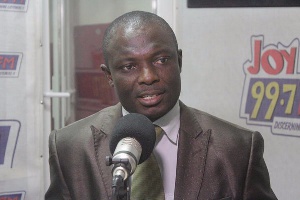 Thursday's budget presented in parliament by Finance Minister Ken Ofori-Atta has silenced critics and political opponents who said the New Patriotic Party (NPP) government would not be able to honour the numerous promises it made to the electorate in the run-up to the 2016 election, Kwaku Agyeman Kwarteng, Obuasi West MP, has said.
The NPP assured Ghanaians of free senior high school education, one million dollars per constituency for development, one factory per district, one dam per village in each of the three regions in the North, the removal of what it described as "nuisance taxes", among others, if it won the presidential poll.

According to Mr kwarteng, the party's main political rival, the National Democratic Congress (NDC), which was in government at the time of the political campaign, had said on several platforms that their manifesto promises would not be bought by the electorate as they were not achievable given the country's financial situation.

But the Mr Kwarteng, who is also a member of the Poverty Reduction Strategy Committee of parliament, said once the Danquah-Busia-Dombo party won the election and was sworn in, its opponents came up with a new argument – that it would not be able to include any of its "unattainable" promises in the 2017 budget.

But he said what the Akufo-Addo government did as it drew up the budget was to list all its "commitments" and "expenditures" which came up to GHS58billion, while taking into account Ghana's "resource envelope", being money from taxation, non-tax revenue, petroleum revenue, grants, loans, among others, and was "convinced clearly in our minds" of its ability to fund what it had set out to do within the 2017 fiscal year.
"…This country, we've been doing things wrong for so long that many of us don't believe that things can turn around again. So when you promise good deals to people and proper management of the economy, people say 'you will do and let's see'. The budget came and the budget has vindicated us and I am happy people are happy. I stand here on behalf of the government to promise that we will deliver…" he told Samson Lardy Anyenini on Newsfile on Multi TV on Saturday March 4.

The lawmaker added that government was certain it would make much more revenue than it had projected but had kept it targets deliberately "conservative" as part of its "culture" to maintain "a high level of credibility" in the eyes of everyone, including the country's development partners.

A key point of Thursday's budget was the announcement that duties on imported automobile spare parts would be scrapped, something Mr Kwarteng said had come as exciting news for spare parts dealers and would ultimately occasion a shift in attitudes among Ghanaians towards the reading of the budget.

"…What's going to happen going forward is that this thing about people being disengaged from politics and when they are going to read the national budget they think it's not their business: 'if I'm in some corner doing my mechanic work, if I'm a fitter doing mechanic work somewhere, why should I bother about a budget?', henceforth that has changed. And when we say this change in government is not just a change from one political party to another but a change in the way this country is run, this is what we mean. Now there is a burden on politicians. Each you're going to read your budget the citizenry will be waiting to see what is in it for us. This connection between the governed and government is extremely exciting for me. We'll do more of that as we move and whatever the challenges, the determination in the team, the team leading the economy and the country, is so absolute," the MP added.