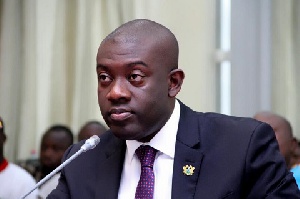 Deputy Information Minister Kojo Oppong Nkrumah has stated that the upcoming State of the Nation's Address (SONA) scheduled for Thursday February 8 2018 will highlight the economic achievements of the government so far.
Speaking on GHOne, State of Affairs hosted by Nana Aba Anamoah, Mr Nkrumah indicated that irrespective of the fact that some projects have become challenges for the current government, he is optimistic that the president has good points to raise to Ghanaians.

He said,"A lot has changed in the Ghanaian economy and on Thursday the President will give us the latest update on where we are on the macro side and then also on the micro side some specifics of what we have been able to achieve so far".

As per Article 67 of the 1992 Constitution, the President is expected to address the State at the Parliament House on the progress of his administration over the previous year.

Among the issues he is expected to address are that of national security and economic matters among others.
Mr Nkrumah further said, "We are doing well".

"Admittedly a significant part of [GDP growth figures] has come from oil but you also notice that the non-oil GDP figures are also picking up. And also if you look at the long-term growth horizon, you notice that for the non-oil GDP, as we invest more money into agriculture and as industry regains its verve...there is a gradual improvement in the Ghanaian economy particularly in the macro side," he further indicated.

Moreover, he said President Akufo-Addo will outline some ways his administration will solve the policy challenges the country is facing.