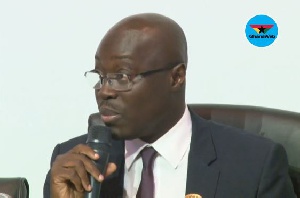 The Minority in Parliament has predicted that Ghanaians will experience hell in 2019.
According to the NDC MPs, government is expected to compound the current hardships being experienced with more taxes, borrowing and bad policies in the 2019 budget to be presented to Parliament on Thursday.

Speaking at a pre-budget round table discussion, Minority spokesperson on finance Casiel Ato Forson said the impending budget is hopeless and will burden the already overburdened Ghanaian.

"Our analysis show that Ghanaians are in for a tough time in the year 2019. There is no indication that there will be a change in government's policy direction, we therefore cannot agree with his Excellency the president on the claim of hope in the 2019 budget.

"Ghanaians should expect the following, we expect new taxes to deal with the financial sector mess they have created with their populist policies…we expect the prevailing hardship to persist and may even get worse.
"The worsening unemployment situation will continue, more debts accumulation…an upsurge in government expenditure and populists policies and we expect the issuance of a century bond which is over and above the absorption capacity of the economy," Ato Forson said at the roundtable discussion.

The Finance Minister, Ken Ofori Atta is expected to present the 2019 budget to parliament on Thursday.

The presentation of the budget statement is in accordance with Article 179 of the 1992 Constitution.

Article 179 (1) stipulates that: "The President shall cause to be prepared and laid before Parliament at least one month before the end of the financial year, estimates of the revenues and expenditures of the Government of Ghana for the following financial year."