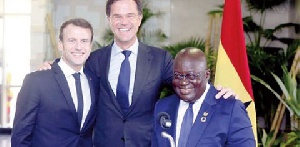 President Akufo-Addo has been very busy in the last few days as he opens his doors to foreign dignitaries, mostly European leaders, who have been visiting the country to deepen bilateral relations.
The president is currently hosting three European leaders, including French President Emmanuel Macron and the Prime Minister of the Netherlands, Mark Rutte. Also in the country is the Estonian President, Khersty Kaljulaid.

The Italian Prime Minister, Paolo Gentiloni, had earlier visited the country and had bilateral talks with President Akufo-Addo.

Last week, Danish Queen Margrethe II was also in the country for a 5-day official visit.

President Akufo-Addo and his French counterpart yesterday joined the ranks of world leaders who have spoken against the human rights abuses being perpetrated in Libya.

Nationals of various African countries have been subjected to inhumane treatment in the Northern African country in what has been described variously as the emergence of modern-day slave trade.
In some of the videos that have gone viral, Africans are seen being subjected to various forms of torture, including maiming.

This has attracted condemnation from across the globe.

Speaking at a press briefing at the Flagstaff House, President Akufo-Addo described what is happening in Libya as barbaric and savagery.

Concern

He pointed out, "The source of all the destabilization that is taking place in the Sahelian region, the arms that are circulating in the Sahelian region, are all coming from the armoury that Colonel Qaddafi left in Libya before his downfall."
For him, "Resolving the crisis in Libya is not just resolving it internally for the Libyan people; not only does it provide an opportunity to bring to an end these barbaric acts. These acts of savagery are taking place against Africans on Libyan soil, but it also provides an opportunity finally to come to grips with the crisis in the Sahelian region and therefore the coordination that the African countries want to undertake… for the stability of our region."

Whether it is Boko Haram, the jihadist in Mali, the Ghanaian President said, "Those who are menacing the stability of Niger, of Chad, of Burkina Faso, there is a common link which is the terrorism emanating from Libya.

According to President Akufo-Addo, "If we don't come to grips with the situation in Libya, it's going to become difficult to come to grips with what I consider to be ancillary, subsidiary matters that are taking place in the Sahelian region.

"So the decisions that now have to be made at the continental level by the African Union (AU), whether it is in the position to mount direct military intervention, how it sees the issues of security and stability in Libya are some of the most important decisions that the AU is going to be taking in the weeks and months ahead of us."

Relations
He described relations between Ghana and France as strong whilst stressing the need to deepen it further.

"It's important that countries like ours, both strong democracies, a culture and tradition of respecting human rights, the rule of law and the principles of democratic accountability, we find occasions such as this to meet, share views, discuss matters of common interest, mutual concern, so that as much as possible, we can concert…both at the regional and continental and then the global level," he entreated.

President Akufo-Addo related that "President Macron has been extremely outspoken on the need for collective action to defeat terrorism in our time. I'm particularly happy that a man of such resolve, such determination and such friendship for the peoples of West Africa and the Ghanaian people, should find his way here today."

To that end, he said, "Both of us are committed to improving and developing more deeply economic exchanges between French and Ghanaian enterprises, opening the opportunities for investments in our two countries to our two business communities and taking advantage of the various comparative advantages that we have."