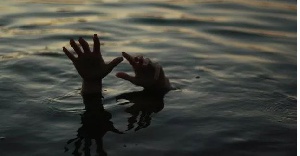 Three casualties has been reported at the Tawala Beach at La in Accra as members of a youth fellowship team have drowned.
The deceased were part of a youth fellowship team of fifteen people who went to the beach to pray on Good Friday.

The incident occurred after some of the team members decided to swim after their prayer session.

In an attempt to save their drowning friend, the two others also drowned.

Speaking to Citi News, a brother of one of the deceased, Kwame Mac-Joseph, said the absence of lifeguards at the Tawala beach is to blame for the deaths.

"In the course of the swimming, one person was drowning and the next person wanted to help and he got drowned. The third person who also wanted to help also got drowned."
He said some of the onlookers were unwilling to help because they were not experienced enough in swimming, and were also terrified.

"There was no rescue team or indigenous people readily available to help. The onlookers were looking at this three gentlemen drowning."

"We just received a call from the Labadi police that we should come to the police station, they've found two of the bodies and my brother was part of it. They also said one of them had a wedding ring on his finger. So two people have been found and it's left with one person," he added.

Stories of drowning are often reported during festive seasons when holiday makers visit various beaches in their numbers.