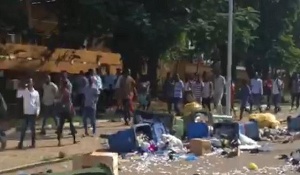 About 35 cars have been destroyed by angry students of the Kwame Nkrumah University of Science and Technology today.
Students clashed with administration and security personnel over what they describe as unfair treatment in recent time.

Dozens of students defied the Dean of Students, Mr Gariba's order to boycott the demo and return to class for lectures this morning.

The student followed the order of the SRC executives that called on the all and sundry to boycott class and instead demonstrate against the unfair treatment rendered to them by the school authorities.

Over the weekend, some students were reportedly brutalized by the university's security guards and no action has been taken by the school authorities which seems to have incurred the wrath of the student.

The students this morning turned up in numbers and demonstrated across the street of the school.
A lot of properties of the school were destroyed by the enraged students.

The school main administration blocks were subjected to different attacks. Offices, documents, files and glasses, Plasma television and many others were destroyed.

Ghanaweb.com counted about 35 cars which were destroyed including the Dean of Students car which was burnt.

About 30 police officers and 15 military men joined the police already there but couldn't stop the agitated student from registering their grievances.

The military tried their best to restore sanity to the extent of firing tear gas at the student in order to make sure peace is restored.