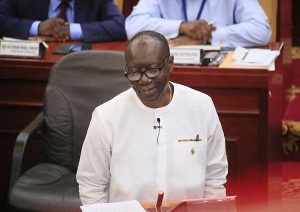 Finance minister Ken Ofori-Atta has said the minority's decision to heckle him with "419" labelled placards during the budget reading, emboldened him.
He said the digits 419 reminded him of Philippians 4:19 in the bible which reads "And my God will meet all your needs according to the riches of his glory in Christ Jesus".

Addressing a group of MPs at a post budget reading event, Mr. Ofori Atta said he is confident the government will find the monies to deliver on the promises they have made to Ghanaians in the budget.

"I thank you honorable members for the somewhat fire baptism you gave me in the house during the budget reading. I remember when the minority raised the placards and I saw '419 budget', it reminded me of the Bible; Philippians 4:19 and and that gave me strength. And I was like these people don't know what they are doing".

The minority who had agreed to a ban on placards during budget readings, defied the deal and flashed the cards to taunt the finance minister who was presenting the Akufo-Addo government's maiden financial statement last Thursday.

The minority has described the budget as visionless and deceitful.
"I'm sure the Ghanaian people are expecting some further announcement outside the budget and outside of the SONA [State of the Nation Address] as to the intentions of government to lower the electricity tariffs for them.

This can only mean a betrayal of the significant trust that the Ghanaian people invested in them," minority leader Haruna Iddrisu said in a statement.