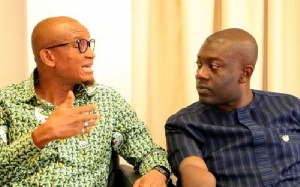 The opposition National Democratic Congress (NDC) has questioned government's rationale for appointing seven appointees to man the Ministries of Information and Communication.
According to the NDC, former president John Dramani Mahama merged the two ministries and appointed a minster and two deputies to manage the sectors and wondered why President Nana Addo Dankwa Akufo-Addo would name two ministers and five deputies to do the job that three people managed at the two ministries under the John Mahama administration.

Speaking at a press conference in Accra on Tuesday 18 April, Deputy Minority Leader James Klutse Avedzi said the seven appointees showed the NPP government was incompetent.

"We are completely baffled by the decision to populate the Ministries of Information and Communication with seven Ministers – that is, a Minister with three Deputies for Information and a Minister and two Deputies for Communication. Under President Mahama, the Information and Communication Ministries were merged and manned by three competent hands: a minister and two deputies. It simply defies logic that work done by three people has suddenly become so complex that seven are now required to do it," he stated.
"Are they going to build more national data centres? Are they going to set up more state-owned telecommunication centres? Are they going to beat the gong gong in every village every morning to disseminate government information?

"Again and again, this is yet another bad example of a party that claims to have the men but has proven by their actions to be incompetent too early in the day. It is worth noting that these seven Ministers are in addition to a [group] of spokespersons and press secretaries appointed politically to work in Ministries, Departments and Agencies (MDAs). This category of appointees adds on to public relations officers who are civil servants already working in almost all government agencies."