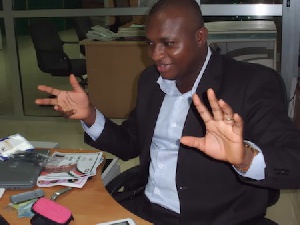 Ashanti regional youth organiser of the opposition National Democratic Congress (NDC) Brogya Genfi has stated that abolished levies will create huge problems for the various Metropolitan Municipal District Assemblies (MMDAs) in the country.
The Finance Minister Ken Ofori Atta on March 2, 2017, during the 2017 budget presentation abolished levies imposed on 'kayayeis', spare parts importation, airline tickets, reduced the District Assemblies Common Fund (DACF) etc.

But speaking on Abusua FM's Abusua Nkommo hosted by Kwame Adinkra, Mr Genfi complained that the abolished levies will undermine the decentralisation system.

He explained that people who are into petty trading such as PK, sachet water, coconut, ice kenkey and bread sellers whose levies were not abolished are likely to engage in banter with the assemblies.

A livid Genfi wondered why these people who equally earn little were also not factored in the budget touted to be 'asempa budget'.

The district assemblies lack money to finance their own activities adding that reducing the District Assemblies Common Fund (DACF) from 7% to 2.5% will hugely affect the assemblies' activities and participation in other events.
The regional youth organiser of NDC said it was wrong for the Akufo-Addo's government to prevent the assemblies from collecting levies from 'kayayeis', observing that the assemblies with the collection of levies coupled with DACF even struggle to fund their activities.

He envisaged doom for Members of Parliament (MPs) if the one-million-one constituency is not given to them to finance projects in their constituencies.

'The DACF which was 5% was increased to 7% during late President Atta Mills administration, but sadly the finance minister has reduced it to 2.5%. Majority of the district assemblies cannot even fund their own activities, a typical example is Drobonso district assemblies. The reduction in the fund will affect all statutory funds, talk of Members of Parliament (MPs) Common fund and GETfund,' he said.

According to him, district coordinators are complaining that the 2017 budget has thrown their budget out of gears.

Mr Genfi said the budget did not outline any pragmatic measures in solving 'Dumsor'.