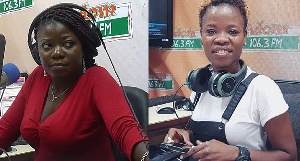 Host of 'Fabewoso' on Adom Fm, Captain Godsbrain Blessed Smart has denied reports making the rounds in the media that two female broadcast journalists with the Multimedia Group have been sacked from the Multimedia over alleged unsavory comments about the death of their colleague, Kwadwo Asare-Baffour Acheampong (KABA).
Late last week, News Editor of Adom FM Afia Pokuaa otherwise known as Vim lady in a post appeared to have suggested the 37-year old did die of a natural course and suspects someone has a hand in his death.

A livid Vim Lady took to social media and wrote:" "Why do we use juju and evil means to kill each other and undermine each other when we came individually?" "Why? Did God create anyone for anybody? WHY ARE HUMANS THAT EVIL?"

Work and Happiness' host on Adom FM, Harey Adjoa Yeboa-Asuama better known as Ohemaa Woyeje also followed that up with another post descending on some persons he described as hypocrites who subjected the former Asempa Fm presenter to various forms of frustration and intimidation

"Why didn't she sleep and pop champagne to celebrate news of his demise?" she quizzed.

She prayed and said she wished KABA could come back to life to slap all the fake mourners, the backbiters, the haters and the pull him down people who made his stay on earth miserable.

"How I wish the dead have the power to come back and slap all the fake mourners, the backbiters, the haters, the enemies who come like friends, the devils in angelic outfits, the backstabbers, the pull him downs, the intimidators & suppressors, etc …. judgement unto their heads every time!!! They think we don't know them. #KABA due ne amanehunu".
The back and forth between the two it was gathered had earned them a sack from the Multimedia Group but Captain Smart denied the claim saying:"Sometimes I wonder why people would sit in the comfort of their one corner and spew lies and many more.

Afia Pokuaa and Ohemaa woyeje sacked from Multimedia.

Why don't you publish their sack letters.?.

Infact the management of Multimedia are forward looking, intelligent, visionary and full of matured people and will not even consider doing this at this moment of grieve and pain. Please credit our leaders led by the ever affable, smart and compassionate Kwesi Twum with some respect. They are human but godly people.

Captain Smart says Kaba owes Erata Motors $10000.

Where and why on earth will I say this. I dont remember saying this even in my dreams. I am rather owing Erata so go and pay for me.
I know data is cheap and Facebook is free even a twerp with a China phone can have access but it doesn't mean you can just wake up from your slumber, create space and spew lies about people.

Please if you have nothing to write help us publish for a fund for Kaba's wife, mother and the 7months baby girl left behind.

The enemies of Multimedia will and shall never win any battle over us.

OUR HEARTS ARE BROKEN BUT OUR FAITH IN CHRIST IS NOT BROKEN.

#Longlive MULTIMEDIA

#Longlive ADOMPFM
#Longlive ASEMPAFM

#Longlive JOYFM

#Longlive HITZFM

#Longlive MULTITV

KABA WE LOVE YOU

KABA WE WILL ALWAYS REMEMBER YOU
MY BROTHER damirifa due due due.