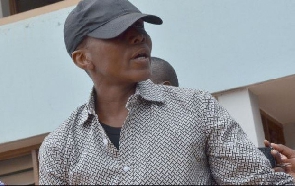 Recent comments by the Northern Regional Chairman of the New Patriotic Party, Daniel Bugri Naabu, did not only disgrace his political grouping – the New Patriotic Party (NPP) – but has also emboldened the family of Gregory Afoko, who is standing trial in a court, to press for his immediate release from prison custody.
Gregory Afoko, younger brother of suspended national chairman of the NPP – Paul Afoko – has been accused of killing the late Adams Mahama, Upper East Regional chairman of the NPP; and for almost two years has been on remand.

Family members of Gregory Afoko, including Paul Afoko, has since the beginning of the case, insisted that their brother was not responsible for the death of the late Adams Mahama and called on the police to do extra work to get the true killers of the late party chairman.

At a press conference at Sandema in the Builsa North District of the Upper East Region on May 15, the family announced that Gregory Afoko was not the killer of the late party chairman, but the real killers of the late Adams Manama are walking around freely, enjoying the goodies that the NPP's victory has come with.

The family, through a spokesperson, Robert Atong Asekabta, mentioned Mr Daniel Bugri Naabu; the Minister for Gender and Social Protection, Otiko Afisa Djaba; the Upper East Regional Minister, Rockson Bukari and the National Nasara Coordinator, Kamal-deen Abdallah as people who know about the murder of Adams Mahama, considering the recent comments by Mr. Naabu and past comments of the Nasara Coordinator after the death of Mahama.
The family has called on the police to invite these persons to assist in unraveling the killers of Mr Mahama and if possible, be arrested just as their brother, Gregory Afoko, was arrested and being tried based on allegation.

"So, just as Gregory Afoko was arrested on the allegation of someone, it is our humble plea to the Ghana Police Service that Madam Otiko Djaba, Mr. Rockson Bukari and Bugri Naabu himself be arrested or invited by the police to assist them in finding who actually killed Adams Mahama and for what purpose. The law must be seen to be applied equally to all manner of persons including Bugri, Bukari and Otiko.

"The Police have not widened the net of their investigations enough. For instance, some hours after the night Adams Mahama sadly passed on, the current National Nasara Co-ordinator of the NPP, one Kamal Deen Abdulai, was heard in the media saying that he had called to inform the late Adams to take issues of his personal security seriously and that he should be prayerful."