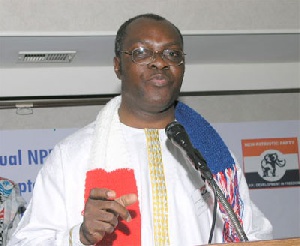 New Patriotic Party (NPP) bigwig Dr Arthur Kennedy has said he disagrees with the National Executive Committee's decision to suspend Paul Afoko indefinitely.
The national chairman of the Elephant family has been suspended for gross misconduct following two separate petitions to the Committee.

Dr Kennedy believes the party is digging its own grave and has urged the suspended national chairman to head to court to seek redress.

"If some in the NPP want to remove Mr. Afoko rather than fight the 2016 election, let them follow the procedure laid down for impeachment. A unity fostered by intimidation and fear will never lead to victory.

"Today, I urge all true leaders of our Tradition to stand and confront this outrage. Let him proceed to court, not for his own sake but for the sake of our party and its principles," Dr K said in a statement.

Below is his full statement:
Irmo, South Carolina

25th October, 2015

The NPP has taken another giant step forward in its bizarre, "Gbesie inspired" quest to snatch defeat out of the jaws of victory in the 2016 election by suspending indefinitely, its first-ever elected Chairman to hail from the north.

Regardless of who stands where in the internal wrangling tearing the NPP apart, there were no winners in Friday's thinly-disguised coup d'état against Mr. Afoko. Those NPP members who are celebrating remind me of the mad man chewing his tongue happily in the believe that he is chewing meat!

It seems the takeover of the NPP by CPP elements is now complete--- with Mr. Blay as Chair and Abdul Malik Kweku Baako leading the Public Relations case for the coup! It is sad how far we have fallen from our lofty heights. We used to mock the NDC for being ruled by men instead of laws.
Hon. Kennedy Agyapong was wrong that we are all fools in the NPP but we have certainly done some stupid things--- like electing the CPP's Freddy Blay as First Vice-Chairman ahead of people like F. F. Antoh and Rita Asobayire. We are reaping the fruits of that stupidity.

It is obvious that those who had tried unsuccessfully to impeach Mr. Afoko and found the bar to impeachment to high carefully planned and executed this despicable coup. Nobody is fooled by the fact that in the end, they found two northern tokens to sign complaints to the Disciplinary Committee. Mr. Afoko'S purported removal was wrong both legally and politically. He has been targeted from removal from the moment the votes were counted making him Chairman and that is wrong.

From the abandonment of the party's clear procedure on impeachment to the improper referral of bogus complaints to the Disciplinary Committee to the faulty convening of the National Executive Committee by a man who stood to benefit from the action, there are enough errors to reverse Mr. Afoko's removal ten times over in court.

If we can remove a man from office for incompetence, how can we retain a losing candidate as flag-bearer not once but twice?

If we can sanction a man because of his brother's potential involvement in a murder, shall we remove others from office/candidacies because their relatives have been implicated in drugs?
Politically, this unfortunate coup not only all but concedes the 2016 election because of our proclivity to chaos and resulting unattractiveness to floating voters-- it changes who we are and has the unintended effect of reinforcing the unfortunate impression that our party is inhospitable to non-Akans.

It undermines our 2016 campaign because it gives the impression that we are more concerned about our petty quarrels and factions than the plight of Ghanaians. If we force Ghanaians to choose between our chaos and the NDC's incompetence in 2016, they will choose incompetence.

Despite all these grave consequences, the biggest reason why Mr. Afoko's removal must be fought is because, it changes who we are as the New Patriotic Party. It substitutes the rule of men for the rule of law--- It grants to extremists and autocrats the right to trample on our sacred rules and procedures.

In 2005, there was an election for NPP National officers. The President and leader of our party, the then President, His Excellency John Agyekum Kufuor's preferred candidate did not win. Instead, Mr. McManu was elected. As a democrat and true member of our tradition, Mr. Kufuor accepted the verdict of the party. He accepted Mr. McManu and worked with him. Just as Mandela had bowed to the ANC's wishes in choosing a Vice-President, JAK accepted the NPP's choice. That is as it should be-in a democratic organization.

Every true NPP man or woman must stand against the wrong removal of Mr. Afoko, not because he made no mistakes, but because that is not how the followers of Danquah, Busia, and Dombo behave.
The manner of Mr. Afoko's removal may be consistent with the CPP way, dictated by a Supreme Leader in the name of the Supreme Party but we are NOT the CPP. We are the NPP.

If some in the NPP want to remove Mr. Afoko rather than fight the 2016 election, let them follow the procedure laid down for impeachment. A unity fostered by intimidation and fear will never lead to victory.

Today, I urge all true leaders of our Tradition to stand and confront this outrage. Let him proceed to court, not for his own sake but for the sake of our party and its principles.

Let us move forward-together.

Arthur Kobina Kennedy