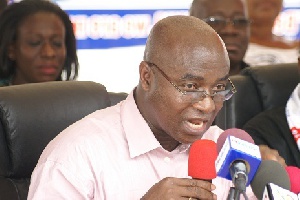 Fri, 11 Dec 2015 Source: atinkafmonline
It has emerged that one of the reasons the New Patriotic Party (NPP) suspended its General Secretary, Kwabena Agyepong, was the decision to remove photos of the flagbearer, Nana Akufo-Addo, from his office.
Mr. Agyepong was said to have ordered the removal of the images soon after Akufo-Addo emerged victorious from the keenly contested delegates' congress of the largest opposition party earlier this year, ahead of the 2016 general elections.

Minority Leader, Osei-Kyei Mensa-Bonsu disclosed this on the AM Drive on Atinka FM on Friday, December 11, 2015 in an interview with host Kwame Adinkra.

Kwabena Agyepong together with the party's Second Vice Chairman, Sammy Crabbe, has been suspended indefinitely from the party, effective Thursday.

Mr. Mensa-Bonsu, who is also a member of the party's National Executive Committee, said Mr. Agyepong initially claimed he took the action before Akufo-Addo was elected but further investigations proved otherwise.

The MP for Suame constituency of the Ashanti Region said Mr. Agyepong's act demonstrated his unpreparedness to support the party's quest to recapture power with Akufo-Addo as President come January, 2016.
Mr. Agyepong instead replaced Nana Addo's photo with that of former President John Agyekum Kufuor as well as his own photo, the MP said.

"He said he didn't want to see any Akufo-Addo pictures in his office," Kyei-Mensa-Bonsu told Kwame Adinkra.

There are other "grievous offenses" Mr. Agyepong is alleged to have committed, Mr. Mensa-Bonsu claimed, but was reluctant to comment on them.

Those who petitioned the party leaders against the conduct of Mr. Kwabena Agyepong, were Messrs. Christopher Arthur, Fred Addai, Amadu Kalim, Iddrisu Musa, Owusu-Ansah and K.T Hammond.
Source: atinkafmonline