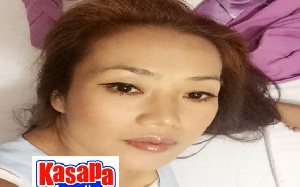 A former Ashanti Regional Minister under the Mahama administration, Peter Anarfi-Mensah has advised government to move in on a recalcitrant Chinese woman who is into galamsey in the Ashanti Region.
The notorious female miner remains untouchable in galamsey activities, because she's alleged to be blackmailing influential politicians with secret recordings of sexual escapades with them.

Ms Asia Hueng is reported to have evaded several arrests for galamsey charges during the previous National Democratic Congress (NDC) government.

She is alleged to have highly placed sources in the NDC and governing New Patriotic Party (NPP), which pushes her to act with impunity and sometimes tacit protection from the police and the military.
But Anarfi is calling on the security to investigate and capture Aisha and her men following the alarming network she's building within the region.

"When I assumed the office of Regional Minister in 2015, I learnt there was a powerful Chinese lady by name Aisha and doing this galamsey and that sort of things. In actual fact, I had a very brief encounter with her. I only met her once, and even it was as a result of the seizure of her equipment that brought her to my office. I noticed that she is one of those people who if care is not taken can blackmail people and that sort of things. She is very notorious, she's been going round bragging that she knows people and that sort of thing and that is her nature.

"She came to my office ostensibly to plead that the equipment that have been seized should be released to her and that the equipment are for some big men…she made mention of some names and so we told her we were not going to give out the equipment to her. So the equipment were there when I left office," he told Accra-based Citi FM.