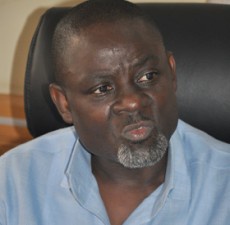 The New Patriotic Party (NPP) flagbearer Nana Akufo-Addo got it wrong by endorsing the indefinite suspension of national chairman Paul Afoko, a former presidential spokesperson argues.
"I profoundly regret that matters have come to this. Such a development has been rather rare in the history of our party. I had hoped that internal discussions and a spirit of cooperation would have enabled the Party to avoid such an eventuality.

"However, the appropriate organs of the Party have acted. I am, therefore, calling on all loyal members of the Party to respect the decision of NEC and the Constitution of the Party, which provides channels for redressing grievances. We need to conduct ourselves in a disciplined manner that will protect and promote the integrity and unity of the Party," Nana Addo said following the suspension of Afoko.

Andrew Awuni, who served former President John Kufuor, said he was surprised about the flagbearer's stance because he is endorsing an illegality.

"Akufo-Addo surprises me, and he is wrong," Awuni told host of the Ghana Report Bernard Avle, Monday. "Afoko is the chairman."
He added: "There is a new culture in the NPP, and we've got to clean it. This attitude won't send the party anywhere. Let the old men stop lying."

Awuni advised Afoko, who has two weeks to appeal the indefinite suspension, not to appeal "an illegality" because "he remains the chairman of the party."

Afoko is serving an indefinite suspension and in his stead first vice chairman Freddie Blay will act.