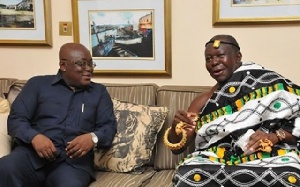 President Nana Akufo-Addo, according to Class News' Ashanti Regional Correspondent Elisha Adarkwa, has rendered an apology to Asantehene Otumfuo Osei Tutu II on behalf of his nephew Gabby Asare Otchere-Darko and Executive Secretary Nana Asante Bediatuo.
The apology was rendered during a closed-door meeting between the president and the Asante monarch.

Meanwhile, the Kumasi Youth Association (KuYA) has said that President Nana Akufo-Addo should not wait for issues to degenerate before taking steps to address them.

General Secretary to KuYA, Mr Kwabena Frimpong, told Adehye FM's Elisha Adarkwah on Tuesday, 8 May 2018 that reliable information available to them indicates that President Akufo-Addo apologised to the Asantehene over the monarch's complaints that Mr Otchere-Darko and Nana Asante Bediatuo, were undermining the revered King.

"We are reliably informed that the President and some Senior Ministers, the Regional Minister, the Kumasi Metropolitan Assembly and some leading members of the ruling New Patriotic Party were at Manhyia to apologise to the great king of our land.
"We heard it was between 7:00 and 9:00 early this (Tuesday) morning," he said.

Mr Frimpong commended the Mr Akufo-Addo for the step he has taken, but indicated that: "Next time, he shouldn't wait for the thing to deteriorate before he comes in to apologise".

Mr Akufo-Addo paid a visit to the Manhyia Palace in the early hours of Tuesday. He was accompanied by some senior members of government and some leading members of the governing New Patriotic Party (NPP).