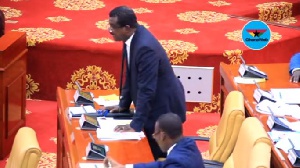 The former Deputy Minister of Finance and Cape Coast South Parliamentary representative, George Kweku Ricketts-Hagan has mocked the Akufo-Addo administration over the current state of the economy.
According to him, the government is confused about how to efficiently run the country and address the economic challenges it is facing.

Speaking on TV3's New Day, Mr. Ricketts-Hagan said: "Everything about this government comes as an afterthought because the budget review presentation came as a motion, which means that they had agreed to be a motion, but at the last minute, they changed it to be a statement."

The MP who served as a minister under the previous Mahama government, was remarking on the mid-year review of the 2017 Budget statement presented to parliament by the Finance Minister, Ken Ofori-Atta.

The review aimed to highlight the progress made so far by the government, and which of the economic decisions that were listed in the Statement have already been rolled out. Mr. Ofori-Attah during his address stated the economy the Akufo-Addo administration inherited, was facing numerous challenges.
According to him, the John Mahama administration had left them a 'weak' economy which he (Ofori-Atta) said will now undergo the necessary transformation and recovery under the Akufo-Addo government.

However, Mr. Ricketts-Hagan further commenting on the review said: "They didn't want to come to Parliament to disgrace themselves that they are going to borrow but they are setting off…to fail because they were putting their hopes on oil revenue from TEIN and SANKOFA."

He added the current government was practicing a 'Tom and Jerry' type of economics in the country.