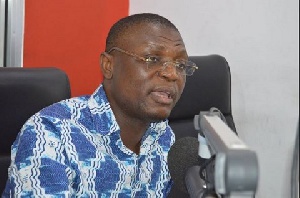 President Nana Akufo-Addo is facing serious challenges which prompted the meeting with the former presidents to help him seek advice, National Organiser of the opposition National Democratic Congress (NDC) Kofi Adams has said.
"You can only invite somebody to come and help when you are encountering difficulties," he told said.

On Tuesday April 18, Mr Akufo-Addo had a closed door meeting with Jerry John Rawlings, John Agyekum Kufuor, and John Dramani Mahama.

The meeting was to enable the president seek their views on some governance-enhancing measures his administration intended to take.

However Mr Adams was of the view that: "When everything is cruising well why provide for interactions" hence such an action can only be embarked upon "when you are faced with challenges that are beyond you".
He however applauded the president taking such a bold action which to him was very positive for democracy and governance in the country.

"I will commend him for being bold despite all the things that he said during the campaign period," he told Emefa Apawu on ClassFM's 505 news programme on Tuesday, April 19.

He noted that the NDC has always demonstrated its readiness to work with different governments to make the country better.

"If he (Mr Akufo-Addo) feels that this I can't carry all alone and there are people out there who have occupied this seat before me let me tap into their experience, for me it is not a bad thing," he added.