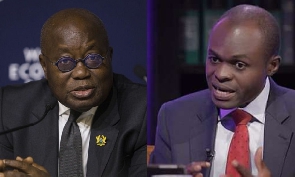 Renowned lawyer Martin Kpebu has stated that he agrees with the position of former President John Dramani Mahama that the 66th Independence Day celebration should have been cancelled because of the current hardship in Ghana.
According to the lawyer, the funds used for the Independence Day celebration could have been used for pressing needs of the country, including the purchase of vaccines for the immunisation of children, which is currently in short supply, and the payment of pensioner bondholders, who are currently going through a lot of hardships.

Speaking in an interview on Neat FM, which was monitored by GhanaWeb, Martin Kpebu said that other African leaders like the president of Tanzania cancelled their independence celebration, but President Nana Addo Dankwa Akufo-Addo is too stubborn to listen to advise.

"He (President) Akufo-Addo is stubborn. He thinks the country belongs to him, even Kwame Nkrumah who won us independence did not do what Akufo-Addo is doing. He does not listen to advise.

"We need vaccines for our children, they are suffering. Apart from that, individual bondholders, we have been making a lot of noise about our members needing their monies to buy their medications and other expenses but they have not been paid.

"The Constitution in Article 36(1) states that when you are developing Ghana be careful that you will provide adequate livelihood. And so, if someone has lent you money and a pensioner medical doctor, and it is time to pay the doctor and you are saying you don't have money but you have money to celebrate Independence Day, this is an affront to the 1992 Constitution," he said in Twi.
The lawyer added that the president must step down now because if he does not, the hardships in the country are bound to get worse.

The national parade to mark Ghans@66 was held at Adaklu, a community a few metres away from the capital town of the Volta Region, Ho, despite calls by some leading Ghanaians, including the immediate past Chief Justice, Sophia Akuffo, and former President John Dramani Mahama, for the celebration to be scrapped.

Watch the interview below:



Meanwhile, catch the latest GhanaWeb TV Election Desk interview with Francis Addai-Nimoh, as he discusses his plans to become the NPP's flagbearer, below:






IB/OGB