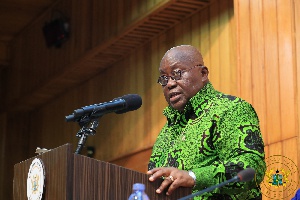 President Nana Akufo-Addo and this Guinean counterpart, Alpha Conde, on Wednesday held mediation talks with the Togolese government and the opposition political parties, in Lome, to end that country's political crisis.
The two leaders have been mandated by the Authority of Heads of State and Governments of the Economic Community of West African States (ECOWAS) to help bring peace to the West African nation.

Togo's opposition political parties are demanding constitutional reforms that include term-limit for the President.

They held series of violent anti-government protests last year – insisting that the Gnassingbe dynasty should end.

That dynasty has been in power since 1967, when Eyadema Gnassingbe, father of the current president, came to power.

Eyadema ruled until his death in 2005, after which Faure Gnassingbe became the leader of the country.

At the Presidential Auditorium of the 'Hotel 2 Fevrier', where the two leaders held talks with government's officials and top figures of the 14 opposition political parties, President Akufo-Addo, said the stability of Togo was important not only to the people there but the entire sub-region.
That was why it was important for all sides to take bold steps towards finding a common ground, to secure the future of the nation.

He expressed regret at the unfortunate incidents which had taken the mediation process back after the last conciliatory meeting in March.

He called for the parties to make the firm and sincere commitment to work together to ensure enduring peace.

On his part, President Conde said they were not there to support anybody but to assist restore calm to the country.

He urged both sides to accept to make concessions to allow tranquillity to prevail.

The mediation team from Ghana included Ambassador-at-large, Dr Edward Mahama and Mr Abert Kan Dapaah, Minister for National Security.