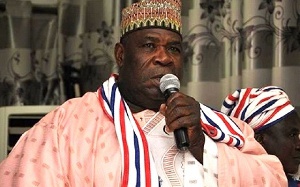 Deputy General Secretary for the opposition National Democratic Congress is calling on President Akufo Addo to take disciplinary actions against Northern Regional Chairman of the party, Daniel Bugri Naabu.
According to Koku Anyidohu, Bugri Naabu has gained notoriety for making irresponsible and wild allegations against persons who do not agree with his way of doing things.

Koku Anyidohu is also challenging the president to order criminal investigations into allegations by the NPP Chairman that Upper East Regional Minister, Rockson Bukari and his counterpart at the Women and Gender Protection Ministry, Otiko Afisah Djaba plotted the gruesome murder of former NPP Chairman for Upper East, Adams Mahama.

Anyidohu was speaking on Abusua Nkommo hosted by sit-in host, Austin Wood in response to a verbal altercation between the two senior figures of the ruling party.

Koku Anyidohu said, "Bugri Naabu is foolish and Akufo Addo must call him to order. He has to discipline the chairman because Bugri Naabu is becoming a nuisance to our political discourse."
"This same Bugri Naabu made wild and criminal allegations against Mahama before the 2016 elections and everybody believed him and the NPP actually glorified him."

"Today, the same Bugri Naabu has turned his foolish lies against senior members of the party and they are quite about it…we in the NDC will not allow this matter die just like that."

"If Bugri Naabu is allowed to make such irresponsible allegations and get away with it by giving silly excuses such as it was a slip of tongue, we will also make similar allegations and blame it on slip of tongue then we see what will happen in the country," Koku Anyidohu charged.