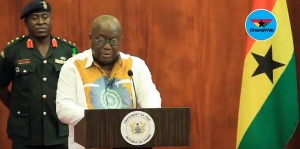 President Nana Addo Dankwa Akufo-Addo has lauded Vice President, Dr. Mahamudu Bawumia for helping to transform the Ghanaian economy into a robust one.
The President who was speaking to the media on Wednesday, to mark his one year in office, said it has taken a lot of hard work from his economic team, led by the "brilliant" Dr. Bawumia to transform the ailing economy inherited from the John Mahama administration.

"Government is working on the economic fundamentals resulting in the reduction of inflation to 11.8 per cent from the over 15 per cent inherited. In addition, the debt situation has improved with 3.1 billion Ghana Cedis being transferred into the Tier Two Account of workers," he noted.

In addition, President Akufo Addo stated that contractors who were owed by the government are being paid and nearly GHC1 billion was cleared in 2017.
He said much of the statutory arrears have been cleared and the government's regimen is to pay government debts as they accrue.

The NPP government under Akufo-Addo has shown its commitment to transform the Ghanaian economy by relying on raw material production with its flagship one-district-one-factory (ID-1F) and digital addressing system policies which aim at boosting economic activity.

The Trade Minister, Alan Kyerematen earlier this month said the 1D-1F project is very much on track after communicating that 192 out of 462 business plans have been approved for take-off.