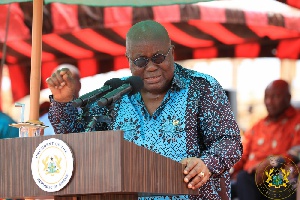 Wed, 11 Jul 2018 Source: New Crusading Guide
The current President of Ghana, Nana Addo Dankwa Akufo Addo is likely to contest the 2020 presidential elections, according to a statement from Gabriel Asare Otchere Darko, A confidante of President.
Gabby has indicated that the President is lacing his boots to contest the 2020 elections since he has enough energy to contest and win.

According to him, because of the passion which the President has for the job, four years will not be enough for him to institute all his plans for a better Ghana.

Speaking at the just ended New Patriotic Party (NPP) delegates conference in Koforidua, Mr Otchere-Darko said the President is also motivated to run again because he feels he is in a position to make a positive change.

"My fear is that he works too hard. In terms of his physical endurance, he has more than even me, and I am 20 years younger than him…and he is alert.

"What feeds the physical is also the conviction. He feels that he has to achieve something and I feel he paces himself in a way that can keep him going in a sense that it is the work that keeps him going. It is not about the perks of the office," he said.

The debate about whether Akufo-Addo will seek reelection surfaced after the president told Journalists at the Jubilee House last year that he may not be on the ballot in 2020.
The President had been commenting on threats by a group of illegal miners that they will vote him out in the next election because of his unwavering campaign against destructive illegal mining activities.

Akufo-Addo said the illegal miners need not worry because he may not even be on the ballot in the next election.

"I've been told there are young men who have said they voted for me and if I continue down this way they can be sure that they will not vote for me again in 2020.

"Well, the 2020 vote; it's not clear if Akufo-Addo's name will be on the ballot in the first place and even if his name is on the ballot, this is not going to be the reason why I'll stop, I'm going to continue," the President had said.

Others, especially members of the opposition National Democratic Congress (NDC), have cited the President's age, 74, as a basis for urging him to step down.

However, since then, top government spokespersons have consistently sought to suggest that the President will be on the 2020 ballot.
Deputy Chief of Staff, Abu Jinapor, said in August last year he is eagerly anticipating a victory for the NPP in 2020, with President Nana Akufo-Addo declared the winner of the presidential polls.

Information Minister, Mustapha Hamid, also stated that President Akufo-Addo will run for the 2020 presidential elections if he is in good health.




Source: New Crusading Guide