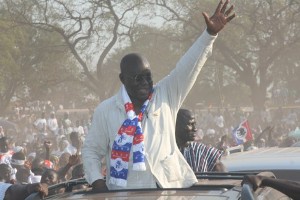 Arabic teachers in Ghana will have their allowances restored if the main opposition New Patriotic Party (NPP) wins the 7 December polls, flag bearer Nana Akufo-Addo has promised.
Speaking to Muslims in Tarkwa in the Western Region as part of his campaign tour, the NPP flag bearer recounted how, under the presidency of John Agyekum Kufuor, monthly allowances for Arabic tutors were paid.

However, these allowances, he noted, have been cancelled by President John Mahama with the excuse that "there is no money".

Nana Akufo-Addo has, therefore, assured the Sarkin Zongo, Alhaji Ali Arizikiya, and the Municipal Chief Imam, Alhaji Mohammed Umar Cisse, that "when I am given the opportunity to serve the nation, I will reintroduce the allowances paid to Arabic tutors".
Additionally, he stated that the NPP's policy is to "integrate Arabic schools into the Ghana Education Service, so that whatever assistance is given to non-Arabic schools will be given to Arabic schools. This will ensure the rapid upgrading and development of Arabic Schools."

Nana Akufo-Addo also pledged that under his presidency, the Ghana Education Trust Fund (GETFund) will be made to assist Arabic schools.

Mr Akufo-Addo has in the past also promised to reinstate teacher and nurse trainee allowances should he win the polls.