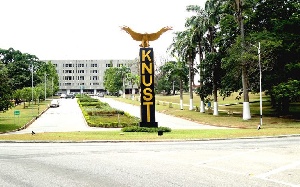 All the unions and groups at the Kwame Nkrumah University of Science and Technology (KNUST) that went on strike following the dissolution of the KNUST Governing Council, have resumed their services with immediate effect.
The groups called off their strike after the Chancellor of the school, Otumfuo Osei Tutu II, inaugurated the new Governing Council on Tuesday, 13 November 2018.

Shortly after the inaugural ceremony, the KNUST branches of the University Teachers Association of Ghana (UTAG), Ghana Association of University Administrators (GAUA), Senior Staff Association (SSA) and the Teachers & Educational Workers Union of Ghana (TEWU), issued a joint press statement calling on their members to resume work.

"By this joint press release, we also take the opportunity to announce that all services suspended on the campuses of KNUST are restored with immediate effect," the statement noted.

The unions thanked all stakeholders for a successful resolution of the impasse that led to the shutdown of the university.

The groups showed appreciation to the government, the Chancellor, the media and other entities that played various roles in a successful resolution of the stalemate.

Six new members are joining nine others, including representatives from the unions, on the new Council.
The same representatives from the UTAG, Prof E.K. Fokuo; the TEWU, Mr Charles Arthur; and the Students Representative Council (SRC), Kevin Sah, will be on the new council.

The Governing Council is made up of 15 members, four of whom are government representatives. A representative from the government chairs the council.

At Tuesday's inauguration ceremony, the Asantehene expressed sadness about the recent riots that occasioned the dissolution of the council and necessitated its reconstitution, saying: "It is a pain I do not bear likely."

Addressing the new members, Asantehene Otumfuo Osei Tutu II disclosed that he will set up a five-member committee to launch a "full and transparent inquiry" into the incidents that resulted in the destruction of property estimated at GHS1.7 million.

The University was shut down following riots by students on Monday, 22 October.