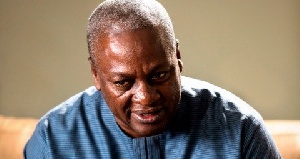 A deputy General Secretary of the ruling National Democratic Congress (NDC), Koku Anyidoho, is advising prospective candidates desirous of competing President John Mahama at the party's upcoming presidential primaries to do a self introspection before deciding to pursue that dream.
"There is no discrimination and so if you think you have the quality, go and pick the nomination forms and go through the process but remember that ye must check thyself," the deputy scribe told Fiifi Banson in an interview on Anopa Kasapa on Kasapa 102.3 FM Thursday.

To Mr. Anyidoho, once President Mahama is doing very well with his leadership style and is enjoying the full support of party members, he does not see the need for somebody to contest him.

Nevertheless, he said if one thinks otherwise, he or she may still go to contest the number one gentleman of the land.
When asked by Banson if his pronouncement does not constitute a threat, Mr. Anyidoho answered in the negative.

"It's not a threat at all, man. But ye must check thyself. I remember when I was going to vie for a position in the party at the national level; some people were urging me on to contest Gen. Mosquito and saying all manner of things.

Some even promised to sponsor me to unseat him but I told them that I will rather go for the position of a deputy General Secretary because Mosquito is a colossus and an institution and therefore, I have to learn from him. So, I checked myself, and I know that if I had gone ahead to contest him, I would have lost."