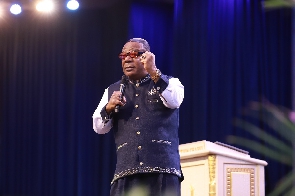 The founder and General Overseer of the United Denomination of Action Chapel International (ACI), Archbishop Nicholas Duncan-Williams, has narrated events that transpired during an alleged assassination attempt on his life.
Speaking in a snippet of Citi TV's Footprints, Duncan-Williams said that three officers from the Bureau of National Investigations (BNI), now the National Intelligence Bureau (NIB), were sent to kill him.

He said that the officers came to kill him, but they could not and he told them that he was going to outlive them.

"Tyson came to see me that there was a gentleman here who wanted to see me from BNI. So, he came, and I said what is it and he said I can't do this. And I said you can't do what and he said three of us are coming for you tonight.

"And we are to pick you up, and it is about assassination. And then I said I know, don't worry about it. He asked me how I know (about the attempt) and I said I am aware.

"So, he said what are you going to do and I said nothing, you can come. So, they came, and I said I know why you are here, and I am not dying today, nor will I die tomorrow, and I will outlive all of you," he said.
He added that two of the three people who were sent to kill him are dead, and the one who is still alive is in active service.





IB/BOG