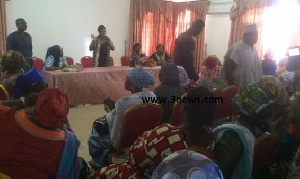 Former Member of Parliament for Nanton Constituency in the Northern Region Ibrahim Murtala Mohammed has called on all and sundry to be interested in the allegations leveled against the Minister of Gender, Children and Social Protection by Daniel Bugri Naabu.
In an internal party brawl, the Northern Regional Chairman of the New Patriotic Party (NPP), Mr Naabu, had called the National Women's Oganiser, Otiko Afisa Djaba, who is also the Gender Minister, a lesbian.

This the former National Democratic Congress (NDC) MP says should not be swept under the carpet.

"Another statement that was made that Bugri Naabu didn't just stop there is he also accused her of being a lesbian…he said it on air," Mr Mohammed said on TV3's New Day on Saturday, May 13.

"I am saying that under [Ghana's] laws it is illegal," he stressed.

"The extent to which you have a Minister of Gender in whose hands our young girls [will be placed]. Are they safe if the allegation is an allegation to go by?"

The former Deputy Minister of Information said given his knowledge of Mr Naabu since his infancy, such an allegation cannot be let go.
He, therefore, charged government, precisely leader Nana Addo Dankwa Akufo-Addo, to take interest in the matter and investigate it. Though Mr Naabu has denied ever making such allegation, made among others, Mr Mohammed insists the law, which proscribes lesbianism, must take its course.

NPP MP Osei Bonsu Amoah, who was also on the show, interjected the former lawmaker, saying that particular allegation was "personal" and should not have been brought up in the discussion in the first place.

He called on the two major political parties in the country to learn from such incidences as his party has learnt a great deal from it.

At the National Council Meeting called by the NPP on Wednesday, May 10 to settle the fracas, party executives serving in government were ordered to resign their positions with immediate effect.

Options have also been given to give up ministerial positions if they want to maintain the party's.