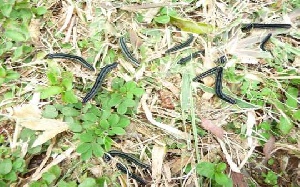 Government has rubbished demands for compensation by farmers up North who say their farms were destroyed by the recent army worm invasion.
According to the farmers, they cannot survive from proceeds of the yields harvested from their farms this year due to the destruction caused by the armyworm invasion, which government said it had defeated in July.

Over 20, 000 hectares of farmlands have been devastated by the army worms across the country.

Farmers are on record to have stated that weak pesticides used in spraying affected farms rather caused the invasion to balloon compelling some to use a cocktail of soap and pepper as a better option to fight the invasion.

They argue that it will be heartless if the government refuses to compensate them.
However, the government says the claims by the farmers in the North that their farms were destroyed by the army worm invasion lacks merit.

Deputy Agric Minister William Agyapong Quaitoo told Starr News the extent of devastation caused by the Army Worm invasion in parts of the country is negligible hence no need for compensation

"Anyone in the North who says his farm was destroyed by animals will have to prove it, it is a way of taking money from the government, we have been asking for prove and no one has been able to prove it…..if you are able to prove it you will be compensated".