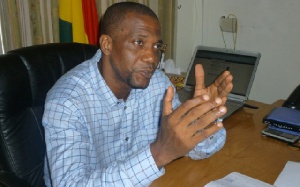 Tue, 18 Apr 2017 Source: Jacob Osei Yeboah
The two cardinal words that saw former President Mahama humiliated lost and which were also assimilated in the perceptive minds of Ghanaians are unbridled corruption and unusual incompetence by the NDC government in solving our challenges as a nation.
There is no doubt of the massive goodwill from Ghanaians towards the personality of H.E. Nana Addo Danquah Akufo-Addo and the government to succeed within the first 100 days in office.

The professionals and caliber of officers appointed to occupy various positions in government is par excellence and a good indicator of competence. However, the size of your ministers is exceptionally the highest in our history but not also a sign of incompetence yet. As a strategist the structure and size of your ministers is clear indicator that depicts your strategy to achieve the varied degrees of promises within a limited time frame. Such a structure may be inefficient but could be effective as well. However, incompetence could be measured after the various ministers fail to achieve their respective goals in fulfilling the campaign promises.

As government is a continuum of liability from the previous one. The government would have to work with the NDC incompetence committed contracts with high judgement debt clauses perceived to be shrouded in corruption. These are great pitfalls that the NPP will be measured if not avoided. The ability of Akufo-Addo led government to transmute these incompetent and corrupt contracts as real performance vehicles will indeed distinguished government as competent with integrity. Whilst most Ghanaians see incompetence as being different from corruption by definition, our (JOY and Team-JOY) analysis rather has conjugated them into a bond of Greed. Greediness blinds the glutton to the surrounding reality of corruption and incompetence.

National ID, One-District-One-Factory, Energy, Galamsey, and Vigilantism competent solutions will guarantee 90% success in our socioeconomic reconstruction of our country.

The competent execution of National ID and One-District-One-Factory in particular will silence the critics as these projects are quite unique to the NPP administration's performance.
There have been attempts to finger Akufo-Addo led government with corruption by the Parliamentary select committee and currently the Addison committee on energy. None is holding water but they are great pointers of the eagle- eye with which to get hold of anything against the administration. Energy and Galamsey are key challenges facing the country as a going concern. The two challenges if solved competently can indeed transform our nation to reflect our true identity of Gold Coast.

Vigilantism seems to be the weakest to handle. But it is embedded in overt security implication of life threatening scenarios. Diffusing the energy built up and transforming such energies into environmental protection and agrarian economic ventures will stop apprehension to possible terrorism looming within the sub region.

For the first 100 days, forming a government and restructuring the economy will enable a smooth takeoff of national socioeconomic reconstruction.

Giving 85% to H.E Akufo-Addo led government is a great attempt in shaping the destiny of our nation competently.

The nation is awaiting to see how the Akufo-Addo led government will handle the endemic corruption perceived to have been perpetrated against our nation.
Source: Jacob Osei Yeboah