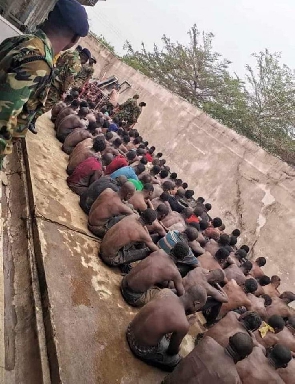 The lead convener of the #FixtheCountry movement, Oliver Barker-Vormawor, has condemned the Ghana Armed Forces over the actions of its officers who are reported to have brutalised residents of Ashaiman over the alleged murder of a soldier.
According to him, the military men's actions were wrong and stupid and set a dangerous precedent.

In a post shared on Facebook on Tuesday, March 7, 2023, Barker-Vormawor explained that the military has no law enforcement powers and cannot even investigate crimes even if it is committed against their officers.

"The Military have no law enforcement powers. They cannot investigate crime that occurs when committed by civilians. Even if it's against a Military personnel. The rampant way in which military officials roam our streets and decide to take the law into their own hands must be watched ooo.

"I totally condemn the killing of the young military officer in Ashaiman. However, to think that Military persons can just storm communities and brutalise them in revenge under a democracy is a really, really dangerous trend oooo," parts of the post read.

He also said that the failure of the state to prosecute military men who caused havoc at Ejura and Wa is what is encouraging them to continue to brutalise ordinary Ghanaians.
"I am willing to provide pro bono legal representation to anybody who was injured, brutalised, or even detained by the Military for their stupidity in Ashaiman," he added.

Meanwhile, the Member of Parliament, Ernest Norgbey, has confirmed to GhanaWeb that some military personnel in Ashaiman appear to have taken the law into their hands, moving from house to house and brutalising residents in the area.

This comes after videos of the incident captured by some residents went viral on social media.

In some of these videos, personnel are seen hitting and brutalising residents who were outside their rooms.

The incident happened on the dawn of Tuesday, March 7, 2023, at Official Town in Ashaiman.
Details emerging indicate that the personnel were avenging the death of one of their colleagues who was killed in the area on the dawn of Saturday, March 4, 2023.

View Barker-Vormawor's post below:




World Ashaiman day. ???? the pains would forever be in yur hearts. Rest well Imoro.AHUA MANDOS pic.twitter.com/GhkpxWcstQ

— StOneBwOy Ba MUGABE (@NanaMugabe1) March 7, 2023
Meanwhile, catch the latest GhanaWeb TV Election Desk interview with Francis Addai-Nimoh, as he discusses his plans to become the NPP's flagbearer, below:




IB/SEA