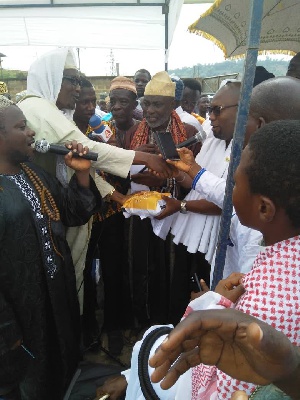 Sun, 17 Jun 2018 Source: Daniel Kaku
The Vice President of the Republic of Ghana, Alhaji Dr. Mahamudu Bawumia has honoured his promise by donating One thousand bags of cement worth GHC30, 000 to the Muslim community in Prestea Huni-Valley Municipality of the Western Region during the climax of the month of Ramadan.
The donation is in fulfilment of a promise the Vice President made towards the building of the second phase of the two storey Mosque at Prestea on May 27, 2018 when he paid a special visit as part of his Nationwide Ramadan Tour.

This presentation was held at Prestea Central Mosque on Friday, June 15, 2018 when all Muslims across the country were celebrating Eid-Ul-Fitr.

Presenting the cash to the Muslim community on behalf of the Vice President, the Municipal Chief Executive (MCE), Mozart K. Owuh indicated that religion is a major tool for transforming Ghana and the government will continue to support all religions in Ghana.

He applauded the Vice President, who is also a Muslim for personally donating to build a Mosque in Prestea.

The MCE further entreated the Muslims to support their own daughter and MP, Lawyer Barbara Oteng-Gyasi popularly known as Hajia Kande, who has also been appointed as Deputy Minister of Lands and Natural Resources to develop the Municipality.
He also urged them to rally behind President Akufo-Addo's government, since it has the welfare of Islam at heart and this is evident in the establishment of the Zongo Development Fund.

He used the occasion to wish all Muslims a happy Eid-Ul-Mubarak and charged them to pray for the country to develop and also pray for President Akufo-Addo and his government appointees.

The Deputy Chief Imam for Prestea Huni-Valley, Mallam Abdul Majeed on behalf of the Muslim community thanked the Vice President Alhaji Dr. Bawumia for fulfilling his promise within a short period of time.

He promised the Vice President of making good use of the donation to serve its purpose.
Source: Daniel Kaku