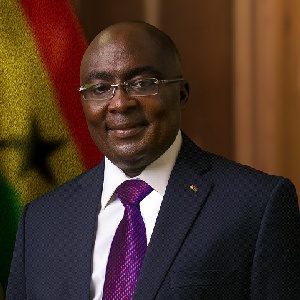 Former Deputy Information Minister, Felix Kwakye Ofosu has indicated that Vice President, Dr. Mahamudu Bawumia has been badly exposed for his poor management of the country's economy.
According to him the country's rising public debt, the decline of the local currency against major trading currencies like the United States Dollar and the increase in prices of petroleum products is ample evidence that the Vice President who is the head of the Economic Management team had been exposed for incompetence.

Mr. Kwakye Ofosu who was speaking on an Accra based local television station and monitored by MyNewsGh.com said the NDC administration left a public debt of around 120 billion cedis, adding that as things stand now, the New Patriotic Party administration under president Nana Addo Dankwa Akufo-Addo and Vice President Dr. Mahamudu Bawumia has in the last one and a half years ballooned it to 160 Billion cedis

"As it stands now, by the close of the year, the debt will shoot up to about 170 billion cedis and that represents an addition of 50 billion cedis. Yet this government cannot point to a single project that they have done with all this money. So tell me, where is the expertise, competence and experience of Dr. Bawumia? He has failed woefully in managing this economy and he has been exposed badly" he argued further.


According to Mr. Kwakye Ofosu, the Vice President in the lead up to the 2016 elections campaigned on the back of rising public debt, high inflation and high cost of petroleum products among other, and wondered how the Vice President who promised to address all these challenges has failed to do that.

In his estimation, the erstwhile NDC administration has outclassed the current administration in terms of management of the economy and governance in general.

He was speaking on an Accra based television station and monitored by MyNewsGh.com.