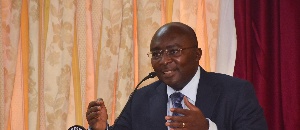 Former Deputy Power Minister, John Jinapor has accused Vice President Dr Mahamadu Bawumia of peddling an untruth over claims that government has saved the country $300 million by reviewing and prioritising some Power Purchase Agreements.
According to Dr Bawumia, while speaking at a Town Hall Meeting in Accra Monday on the Akufo Addo led-government's first 100 days in office said 20 of such agreements have been cancelled, four others have been asked to continue, while the rest would be delayed by two or four years.

He adde that the government has also secured funding for two power projects.

But speaking on Asempa FM's Eko Sii Sen show Tuesday, Hon. Jinapor who is also the Member of Parliament for Yapei-Kusawgu stated that the claims by the Vice President cannot be true.
He said the John Mahama led-administration and the World Bank did an extensive rationalization of the Power Purchase Agreement which were in the pipe line at the time when the likes of Karpower and Ameri arrived in the country and concluded that some of the PPAs had to be changed, of which there's a cabinet memo to that effect.

"At the time we left power, we had gotten to the stage where the Attorney General was advising us on the implication that canceling an agreement will have on the country, so what is the Vice President claiming government has saved? What we're saying is that someone has gone in for prospecting license and wants us to give him gurantee but we declined, because what we have is enough, then Dr Bawumia says government has saved $300 milion. This is not how we save a country $ 300 million. In anycase, they should let us know the 20 agreements that have been canceled and the cost, for everyone to see."