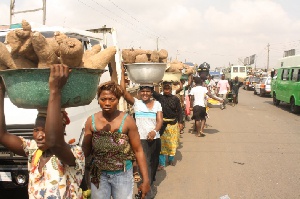 The supreme leader of the All People's Congress (APC), Hassan Ayariga claims that Walewale, hometown of Vice President Dr Mahamudu Bawumia is the headquarters of head porters commonly known as Kayayei in Ghana.
He wondered why Dr Bawumia is taking little steps in stopping the practice he said is shameful in the 21st century indicating that the scrapping of the levies is imposed on them is not an achievement.

"You should take them off the streets and train them. By scrapping the levies we are only encouraging them and I tell you when I become president it will be illegal to carry things on your head as a head porter. The head must be used to think and manufacture things to develop the country," he said.

According to him, he felt embarrassed when he spotted the 'Kayayeis' marching on the day of inauguration observing that such practices must not be encouraged in the future.
"On the day of inauguration when I watched on TV, I felt sad. I was out of the country with my family. I cried in my heart not because of the copied speeches and all that…but how we brought the kayayei to come and march past with goods on their heads in front of all those presidents. When the head is supposed to be used to develop ICT and computers"

"90 percent of kayayei come from Bawumia's hometown and home region. What has he done to better their lives" Hassan Ayariga asked.