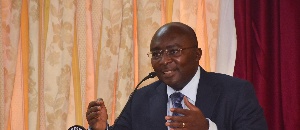 Vice President Dr. Mahamudu Bawumia has charged the state security agencies to be vigilant in their duties as they safeguard the security of the country.
He further urged them to endevour to be steps ahead of hooligans and criminals in the country by gathering intelligence before situations get out of hand.

His comments come on the back of recent activities that have created fear and panic in the country including the clashes at Agbogbloshie which left two people dead.

Dr. Bawumia also made reference to the actions of the Delta Forces vigilante group which attacked a court in Kumasi adding that the actions were condemnable.
The Vice president was speaking at event organised by Multimedia accessing the 100 days of the Nana Akufo Addo government.

The Vice president touched on several sectors of the economy and the strides the government has made so far calling on all and sundry to back the government as it aims at changing the fortunes of citizens.

He was of the view that government is committed to delivering on the promises it made during the 2016 elections.