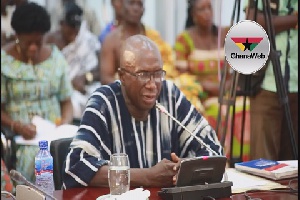 The Bimbilla Traditional Council has rejected claims by the Interior Minister, Ambrose Dery, that the regent of the area was to blame for the intra-ethnic chieftaincy clashes which claimed about 13 lives.
A refugee situation has been created in Yendi following the clashes between chieftaincy factions in Bimbilla, the Nanumba North District capital with at least 30 families fleeing the heavy fighting.

Speaking on the floor of parliament on Wednesday, February 22, 2017, Mr. Dery said the clashes were caused by the regent's flagrant disregard to cautions by both the Regional Security Council (REGSEG) and District Security Council (DISEC) to defer the installation of a sub-chief in the area.

In its reaction, however, the Council strongly repudiated the Interior Minister's claims. According to Sahudu Kiraa Osman, the regent's spokesperson, Mr. Dery's comments are reckless and denigrating.
The entire Traditional Council, he said is demanding for immediate apology from the minister, saying: "They should be factual."

He said the Minister risked being cursed if he does not retract and apologize to the council asking: "Did the regent refuse to comply with their directive? Is it not true that they told the regent not to do the enskinment between the hours of three and four but rather he should do it between the hours of 12 and 1? And is it not true that between the hours of 12 and 1, the regent did it?"