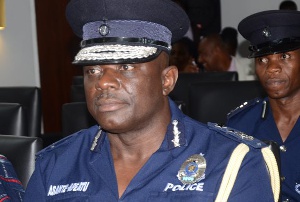 The Inspector General of Police (IGP), David Asante-Apeatu has expressed satisfaction at the current state of security in Bimbilla during his recent tour of the area on Friday, October 13.
The IGP's visit was to ascertain the state of security in the wake of threats of violence in disagreements over the burial of the late Nakpaa-Naa Salifu Dawumi.

The security agencies had warned to strongly deal with any violation of peace in the area. Northern Regional Police PRO ASP Mohammed Tanko tells Class News there is calm in the area a two days after the burial of the chief.

The late Nakpa Naa was buried at his private residence in Bimbilla.

He was buried amidst heavy security at the burial site as well as the Bimbilla Regent's palace, in accordance with the traditions and customs of Nanung in the evening of Wednesday, 11 October 2017.

The late Nakpaa-Naa died on 5 March 2014. His remains have been at the Yendi Hospital morgue since his death until his burial on Wednesday.
Reports say the burial has brought relief to the late Nakpa Naa's family.

Earlier reports indicated that there was heightened tension in Bimbilla before the burial as the Gbugmayili family vowed to resist the burial of the mortal remains of the late Nakpaa Naa following a decision by government to prepare grounds for the late Nakpa Naa.

According to the Gbugmayili family, the decision by government to bury the late Nakpaa Naa is against customs and traditions.

They argue that the late Nakpaa Naa was not Bimbila Naa per their customs, hence, they would resist any attempt by the Regional Security Council to bury Nakpaa Naa in the Gbugmayili graveyard, since he never succeeded the Bimbila Paramountcy.

Addressing the press in Accra on Wednesday, October 11, the spokesperson for the Gbugmayili family, Tahidu Osman-Kikaa, said it is a deliberate attempt by the Nana Addo Danquah Akufo-Addo-led administration to create anarchy in Bimbilla as he insisted that "this move by the President is not in conformity with our traditions".