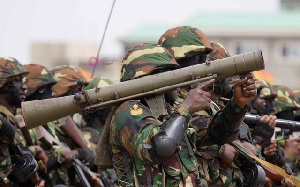 One hundred and thirty police officers and forty soldiers have been deployed at Bimbilla in the Nanumba North District of the Northern Region to keep the peace in the area and also protect the Regent and others who may be targeted for elimination.
Minister for the Interior Ambrose Dery said the dispatch was necessary following the killing of 10 people in resurgent gunfire between rival chieftaincy groups on Thursday.

The dead include three children, six women and a male adult. The deceased children were all under five. Their bodied are in the morgue. Eighteen people who got injured in the clashes are also receiving treatment at the hospital.

The conflict started following an attempt by the Bimbilla Regent to install a sub-chief, an action which flew in the face of an earlier agreement against any of the four gates doing so.
Following the clashes, an already existing 8pm to 6am curfew was reviewed 4pm to 6am.

Mr Dery told journalists at a briefing that the government had no intentions of interfering in the Bimbilla chieftaincy crisis.