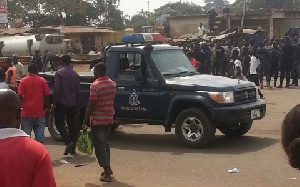 17 individuals have been rounded up by the police and military forces in Bimbilla after a renewed chieftaincy violence that killed two and injured eight others, including children.
The suspects are believed to be members of the same family who engaged in a fierce gun battle after the regent, whose legitimacy they challenge despite a court ruling, installed a subchief.

Northern regional police spokesman, ASP Ebenezer Tetteh, told Starr News the suspects will be transferred to Tamale for further investigations.

He said fatalities toll which still remained at two may rise because scores of people are believed to have been ambushed and killed.

The Bimbila hospital medical superintendent Dr. Osman Abdallah said the injured included three little children, two male and three female adults.

He said the two male adults were fatally wounded but were being treated alongside the other victims.

" It's very serious because the two of them were shot in the neck but the children are fine", Dr. Osman revealed.
Heavy gunfire erupted Thursday between two factions of same chieftaincy gate (Gbrumayili gate) in the Nanung Traditional Area.

The regent allegedly disregarded security warnings and went ahead with the installation ceremony sparking the relaxed chieftaincy dispute.

At least seven houses went up in flames and many have fled the township.

An emergency curfew has been reimposed from now 4pm to 6am.

The intra tribal unrest escalated in the area in July 2014 when the overlord of Bimbilla was slain. Violence broke again and 12 persons were shot to death in August following an insubordination of some butchers who refused to offer a slaughter to the regent because they did not recognized him as the legitimate traditional ruler.