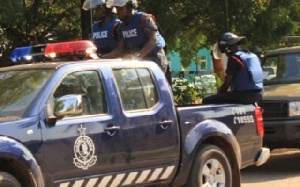 Osman Kikaa, spokesperson of the regent of Bimbilla, Nyelinbologu Naa Yakubu Andani Dasana, has called on the government of Ghana not to meddle in the Bimbilla chieftaincy dispute so the rival factions slug it out in court to find a lasting solution to the conflict.
On Thursday February 9, two persons were killed while two others sustained serious injuries at Bimbilla in the Northern Region following a chieftaincy conflict there.

A mother and her daughter were confirmed dead by police in the area while the injured have been rushed to hospital.

These follow the firing of gunshots in Bimbilla in the afternoon of Thursday February 9, 2017 confirmed by Northern Regional Police PRO ASP Ebenezer Tetteh. The fire exchanges are in connection with a chieftaincy conflict.

A fresh curfew has been imposed in Bimbilla over the renewed clashes.
Speaking in an interview with Chief Jerry Forson, host of Ghana Yensom on Accra100.5FM on Friday February 10, Osman Kikaa said for a lasting solution to be found for this problem, the law courts must be allowed to deal with the matter. Government involvement, according to him, will lead to political meanings being read into the development.

He said: "I don't think the NPP government will have anything to do with this, no. The government has been very careful in his choice of executives especially when you come to the Northern Region because of thee chieftaincy issues. I am telling you government is very careful about chieftaincy issues in the Northern Region.

"The regional minister-designate (Salifu Sa-eed)'s way of dealing with things, if will not improve the situation in the Northern Region, will not worsen it. But I want government to stay away entirely from our Bimbilla chieftaincy matters. We want to deal with the case through the legal process and then we will make sure that there is lasting peace in Bimbilla forever."