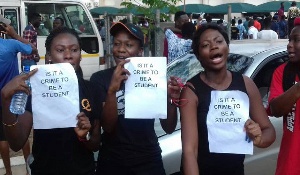 An alumnus of Katanga Hall at the Kwame Nkrumah University of Science and Technology (KNUST) and also a private legal practitioner, George Tetteh Wayo, has blamed the courts for Monday's chaos and vandalism on campus when an intended peaceful demonstration degenerated.
According to him, the court granted permission to the university to go ahead and admit female students into Katanga Hall even when the university had been sued in connection with the same issue and the substantive case was pending.

In his view, the court's decision may have triggered Monday's violence.

The students held a demonstration in protest to a directive that there will no longer be vigils and gatherings to sing 'jama' songs. Ten students and one alumnus were arrested on Friday and later released. This got the students infuriated thereby embarking on the demonstration.

Meanwhile, the university has been shut down and a 6 pm to 6 am curfew imposed on the school enclave.

Ghanaian students are also to vacate the school before 12 pm on Tuesday, 22 October 2018.


It is recalled that on the 24th of August 2018, a Kumasi High Court threw out an injunction application that sought to prevent the authorities of KNUST from converting University Hall and Unity Hall to mixed residences.

The court explained that female students had already been granted residence in those halls and, thus, seeking to prevent same would interrupt the activities of the school.

Speaking on this matter on Ghana Yensom on Accra100.5FM on Tuesday, 23 October with host Kwabena Prah Jnr (The Don), Mr Wayo said: "I strongly believe that Ghana's judiciary is to blame for this happening. The university said it wanted to covert Katanga Hall into a mixed one and we took the matter to the court.

"As we speak today, the case itself has not even started but the university authorities announced that they were starting to admit the female students into the hall on 24th of August even when the matter was in court. We sought an injunction from the same court but the judge threw out our injunction.
"What that means is that the court has given the university the green light to go and put girls in the hall and by doing that, the court has asked the university to go ahead with the conversion."