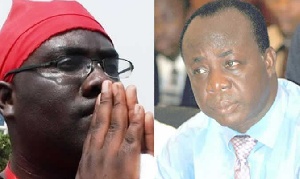 Three stalwarts of suspended chairman of the New Patriotic Party, Paul Afoko, are asking an Accra High Court to imprison Freddie Blay, Sammy Awuku and four other high-ranking officials of the party for contempt.
The three, in a motion filed at the Court Registry Wednesday afternoon, want the six members of the party to be "committed to prison and or fined as the case maybe," for their show of disrespect and contempt.

The six, were said to have held a steering committee meeting of the party on October 27 notwithstanding the pending of a case against the party and some 29 other members including the six people. They are Mr. Freddie Blay, F.F. Anto, C.K. Tedam, John Boadu, Sammy Awuku, and Kamal Deen Abdulai.

According to the three applicants, Emmanuel Tweneboa Kodua, Stephen Owusu and Joseph Oppong Boadi, the six members of the party disregarded an injunction application, which had been served on the NPP, hence should be punished by the court for their action.
The three stalwarts of Mr. Afoko are already in court to challenge last Friday's decision of the National Executive Council that indefinitely suspended Mr. Afoko and made Mr. Blay the acting Chairman.

In that action, they are seeking an order to restrain Mr. Blay from "holding himself out as the acting chairman of the party and convening and attending meetings without the purportedly suspended chairman of the party being the convenor of the meetings"

They are further asking the court to "restrain the defendants from taking decisions in any meeting not convened by chairman Afoko, until this dispute is finally determined"